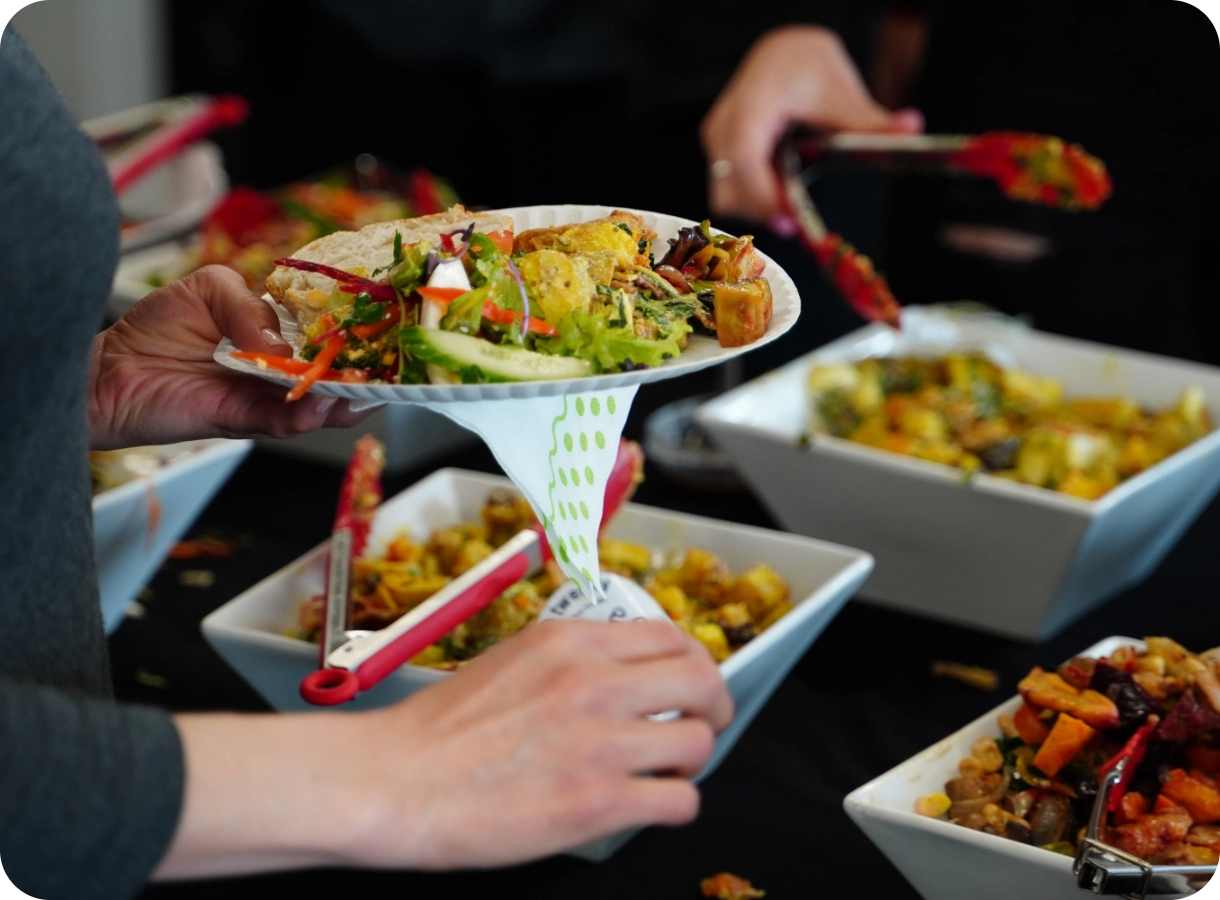 Www.ClarksonMediterraneanbistro.com
1731 Lakeshore Rd. W., ON, Mississauga L5J 1J4
905-916-2283
clarksonbistro@gmail.com
At Clarkson Bistro we work with you on creating the perfect occasion for that special day.

We take care of every single detail needed- from rentals, staffing, wine, liquor purchases & of course our delicious food.

Plan with us and let our catering managers advise on what foods will suit your needs.
$3.25 - $5.25 per piece
(Platters of 10 or more available for family price)
A- Choice of seasonal fruits or vegetables wrapped with Parma prosciutto
B- Sliced beef filet with salsa verde on a crostini
C- Shrimp cocktail served with Clarkson Bistro cocktail sauce
D- Smoked salmon with goat cheese on a crostini
E- Seared sesame crusted seasonal fish with avocado & wasabi aioli on a cucumber round
F- Oysters freshly shucked or Rockefeller style
G- Vegetable spring rolls served with Clarkson's dipping sauces
H- Tomato stuffed with couscous & pecorino cheese
I– Assorted cheeses
J– Assorted vegetables crudités with Clarkson Bistro dip
K– Sliced striploin on crostini and caramelized onions
L– Figs OR seasonal fruit wrapped with pancetta
M– Any canapés of your choice
Seafood chowder
Roasted pepper puree
Carrot and ginger puree
Mushroom stout
Minestrone
Shrimp bisque
Beef Carpaccio, thinly sliced marinated beef, arugula, shaved parmesan, capers & truffle oil
Prosciutto with capers aioli
Sliced Veal tenderloin on greens with truffle essence
Sliced Beef striploin on grilled vegetables
Smoked Salmon, on a bed of baby greens with red onions, capers & goat cheese
Grilled Calamari with capers, kalamata olives, cherry tomatoes, lemon juice, oregano on baby greens
Grilled Butterfly Jumbo Shrimps: On baby greens in a chardonnay & lemon butter sauce
P.E.I. Mussels: White wine, garlic in a spicy marinara sauce
Calamari Salad, topped with arugula, walnuts, cherry tomatoes & raisins with a sesame tangerine dressing
Sea scallops with white wine & extra virgin olive oil
(Includes seasonal vegetables and potatoes)
19.95– 32.95 per
(Platters of 10 or more available for family price)
Veal Marsala, with wild mushrooms in a Marsala wine, veal glaze
Veal Piccata, with capers, artichokes, mushrooms in a chardonnay lemon butter sauce
Veal Parmesan, Lightly breaded, mozzarella, asiago & parmesan cheeses in a pomodoro sauce
New York aged Strip loin: Served with Portobello mushrooms,
green peppercorn in a brandy veal jus
(Can be sliced or you liking)
Veal Chop in a red wine reduction jus
Rack of Lamb in a port reduction jus
Calf's Liver in a calvados jus
Beef Tenderloin in a cherry and port wine reduction
Stuffed Chicken Supreme: Mushrooms, spinach, roasted peppers & goat cheese.
In a Dijon mustard cream sauce
Atlantic Salmon, fresh pan seared in a white wine lemon butter sauce
Pan seared Tilapia in a lemon capers sauce
Pan seared Halibut in a mango & kiwi reduction sauce
Chilean Sea Bass in a Moroccan sauce
Grilled Jumbo Shrimps in a white-wine, lemon butter sauce
Pan-Roasted Scallops & Tiger Shrimps, in a lemon & garlic chardonnay sauce
Pan-seared Cod in a balsamic vinegar reduction
Pan-seared Arctic Char in a cucumber salsa
SANDWICHES & DESSERTS PLATTERS
(Serves a minimum of 10 people per order)
Choice of Panini or wrap, served with lettuce & tomato.
Caesar or Greek salad
9.95– 14.95 per
California grilled chicken breast with crispy bacon, Swiss cheese, red onions & mayo
Avocado BBQ chicken breast club, Swiss cheese & mayo
Fire-grilled Portobello & goat cheese, mushrooms & pesto
Breaded Veal or Chicken, sautéed mushrooms, sweet peppers, Spanish onions, provolone cheese & tomato sauce
Grilled eggplant, zucchini, red peppers, onions, goat cheese & pesto
New York steak, sautéed mushrooms, onions, red peppers & Swiss cheese
Smoked salmon, capers & cream cheese
Sausage & salami with mozzarella cheese
Buffalo mozzarella, basil & arugula
Prosciutto & rapini
Sautéed shrimps & avocado puree
$3.25 - $5.75 per piece.
(Platters of 10 or more available for family price)

1– Mini meat balls with light tomato sauce & peppers
2– Mini French cut lamb chops
3– Mini burgers
4- Pita rounds with lamb or sausage ragu
5– Soft pastry with mushrooms & gorgonzola cheese
6– Mini Fish cakes
7– Beef, chicken or pork skewers with dippingsauses
8– Sea scallops wrapped with pancetta
9– Button mushrooms stuffed with risotto
10– Puff pastry stuffed with spinach and ricotta cheese
11– Grilled butterfly shrimp
12- Coconut lightly breaded shrimp
13– Mini vegetarian pizza bites
9.95– 14.95 per person
(Platters of 10 or more available for family price)
Traditional Caesar Salad
Organic Mixed Baby Greens
Greek Salad
Goat Cheese, Grilled Portobello mushrooms, grilled vegetables
Caprese
Spinach Salad, Crispy bacon, boiled egg, sautéed mushrooms, onions
Roasted Beet Salad, baby Spinach, red onions, cherry tomatoes, goat cheese & pine nuts
Asparagus salad with parmagiano cheese
Sesame crusted Tuna on greens, capers, new potatoes & taggiasche olives
Romaine with pears, walnuts, gorgonzola cheese on arugula
Grapefruit, orange, almond slivers, caramelized onions on greens
(Pizza available to your liking)
12.95– 21.95 per person
(Platters of 10 or more available for family price)
Gnocchi with bacon and red onions in a rose sauce
Fusilli with tender chicken, wild mushrooms, & prosciutto, in a red wine parmesan cream sauce
Agnolotti, stuffed with ricotta cheese, spinach, roasted red peppers, grilled chicken, in a parmesan cream sauce
Smoked Salmon Fusilli: Sundried tomatoes & snow peas in a vodka rose sauce
Shrimps & Scallops Penne: Spinach & goat cheese in a tomato cream sauce
Jumbo Shrimps & crab claw linguini, with Portobello mushrooms, roasted peppers, spinach & roasted garlic
Spaghetti with meat balls
Seafood Linguini: Mussels, shrimps, calamari & clams, in a white wine tomato sauce
Fusilli Primavera: Grilled vegetables, mushrooms & red onions, in a pesto cream sauce
Meat Lasagna
Vegetarian Lasagna
Mushroom, seafood or chicken risotto
STARTERS/PASTAS/
MAINS PLATTERS
7.95– 16.95 per person
(Platters of 10 or more available for family price)
Organic mixed greens with diced tomatoes
Caesar Salad in a creamy garlic dressing, crostini, grana padano cheese topped with anchovies
Greek salad
Grilled vegetables, marinated olives, mushrooms, artichokes, fennel & radicchio
Fresh tomatoes, arugula, basil & mozzarella cheese. Drizzled with olive oil & assorted breads
Sliced beef tenderloin served with Dijon mustard, pickled onions & horseradish
Grilled tiger shrimps, calamari, grilled vegetables, oyster mushrooms, roasted peppers & asiago cheese
Vegetarian Lasagna
Meat Lasagna
Fettuccini Alfredo with chicken
Linguini Seafood pasta in a white wine sauce
Penne with veal & beef in a pesto or tomato sauce
Sea Scallops, oyster mushrooms, cherry tomatoes, garlic & chillis in a white wine sauce
Grilled/Pan-seared Sea Bass, salmon, arctic char & swordfish
Smoked salmon served with rye bread, shaved onions, capers & lemon
Grilled Calamari with capers, kalamata olives, cherry tomatoes, lemon juice, oregano on baby greens
Tiramisu
Assorted flavours of cheesecake
Panna cotta
Chocolate mousse cake
Baklava
Mini assortments of dessert squares
Assorted mini pastries and cookies
Fresh fruit platters