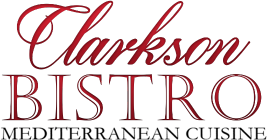 Welcome to our warm and inviting restaurant! Our menu features a mouth-watering selection of Italian, Mediterranean, Bistro, American, and Continental cuisine, including seafood, pasta, and pizza. With vegetarian options available, there's something for everyone!
We take pride in catering to corporate and office events, as well as group functions, with our award-winning dishes and fully equipped A/V systems. Our patio is perfect for enjoying the sunshine, and our free parking makes visiting us a breeze. Plus, we have a fully wheelchair accessible restaurant.
Located in the charming neighbourhoods of Clarkson – Lorne Park, Erin Mills, and Port Credit, our restaurant is the perfect place to gather with friends and family. Come join us for a casual and delicious dining experience!
Type :

Italian, Mediterranean, Bistro, American, Continental, Seafood, Pasta, Pizza, Corporate & Office Catering, Event Catering

Features :

Casual Dining, Catering, Group Functions, Prix Fixe, Award Winning, Free Parking, Fully equipped A/V system, Lunch, Take Out, Vegetarian Options, Patio, Wheelchair Accessible, WiFi

Neighbourhood :

Clarkson - Lorne Park, Erin Mills, Port Credit

Payment :

Visa, MasterCard, American Express, Interac

Price Range :

$$$$ » Moderate (Between $10 to $20)

Atmosphere :

Casual

Attire :

Casual

Price Range :

Lunch...$10-$20
Dinner...$18-$32